Events
---
Four-Country Supplier Exchange 2018
The Four-Country Supplier Exchange Dornbirn 2018 is over – Eberle participated as one of about 90 exhibitors.
At the fourth edition of this innovative networking platform for the presentation and introduction of new technologies, product and process innovations from regional and national suppliers, we have showcased our innovative solutions and products on Industry 4.0, among others.
>>Virtual 3D Systems – Virtual commissioning leads to a significant increase in quality in the programming of controllers with shorter lead times.
>>Mobile Control Center – Our IoT industrial process platform uses the cloud to seamlessly connect the production layer with all business units and automates business data collection.
>>Collaborative Robotics – sensitive, collaborative lightweight robots allow humans and robots to work hand in hand. These intelligent assistants enable a variety of applications to relieve or automate workspaces.
---
Umma Hüsla Hackathon 2018 - Ship IT!
From May 4 to 5, 2018 the "Umma Hüsla Hackathon" took place – as a cross-border "ship it" – hackathon on open waters! The #uh18 focuses on the people, out of the belief that digitization begins with each individual. From the community for the community.
We were there as a sponsor as well as with 2 company teams. We sent our Cobot into the race with a 6-member team of the HTL Dornbirn around Julius Lässer, meanwhile automation engineer Michael Schneider had brought an exciting machine learning task on board along with 3 fellow students from the University of Applied Sciences in Dornbirn.
The UH18 – an event organized by the Plattform für digitale Initiativen – was actively supported by partners of the project "Bodensee Mittelstand 4.0" from Germany, Austria and Switzerland.
---
*Umma Hüsla Hackathon*
28 hour – innovation laboratory – 200 motivated and interested people – ingenious digital projects – # uh18
04th + 05th of May 2018
MS Vorarlberg
Further info: UH18
---
---
Long Night of Research 13-Apr-2018
On April 13, 2018, 87 research stations at 9 locations in Dornbirn and Lustenau provided insights into the work of Vorarlberg's researchers and developers as part of the LNF (Lange Nacht der Forschung – Long Night of Research)
Direct access to research, technology and innovation awakens curiosity and makes science tangible. More than 3,500 children, adolescents and adults were interested in the experiments and demonstrations shown.
Eberle opened its workshop and lab for the general public and presented 5 research stations where we explained, among other things, how digital twins and Cobots already support manufacturing in companies today.
Enthusiasm until Late at Night
Robots, Digital Twins, HoloLens and the learning machine sparked great interest and enthusiastic visitors kept coming in until the end of the event. As expected, the station highlight was the test of courage in the digital world.
The LNF was regionally organized by the Wirtschaftsstandort Vorarlberg GmbH (WISTO – Business Location Vorarlberg Ltd.), the University of Applied Sciences Vorarlberg, the Economic Chamber Vorarlberg (WKV) and the Federation of Industrialists Vorarlberg (Industriellenvereinigung – IV) in cooperation with the PRISMA Group.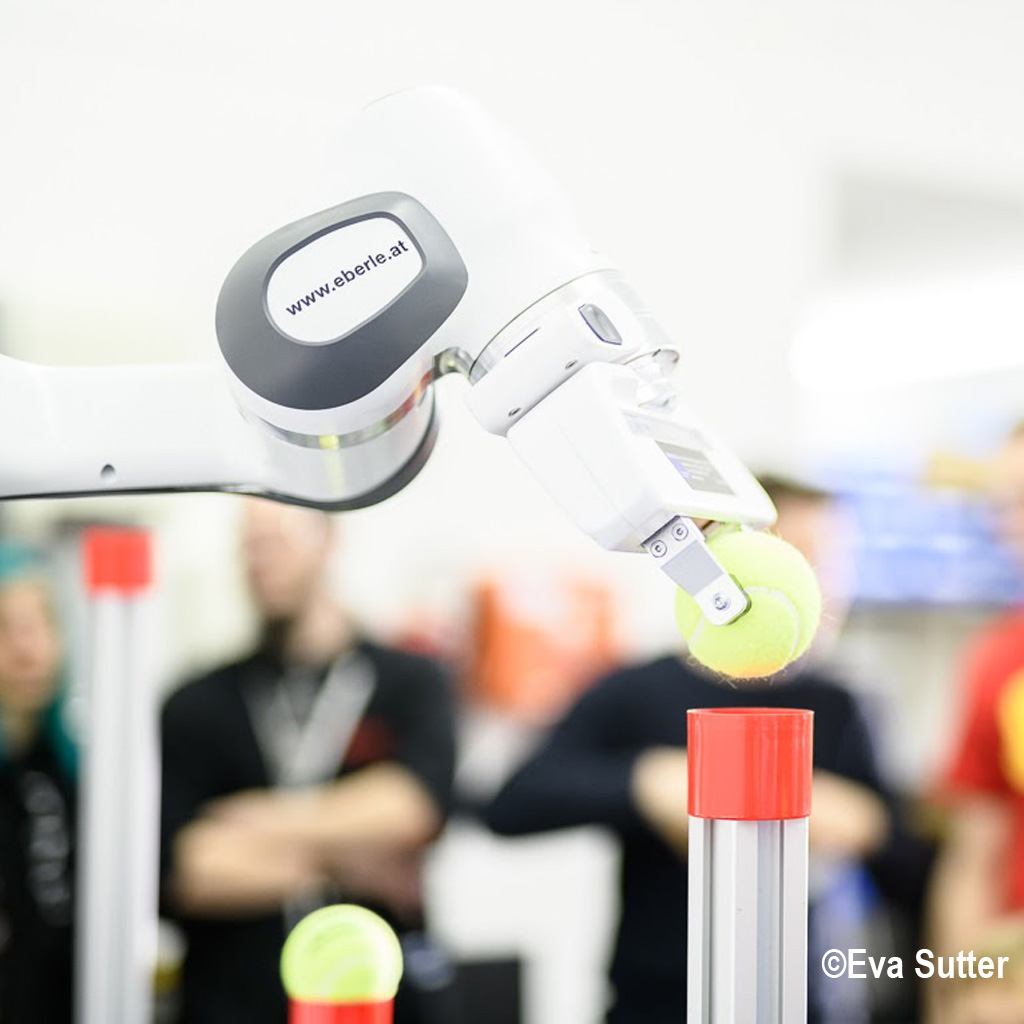 ---
Thematic Workshop Intelligent Systems 10-Apr-2018
Eberle hosted the sixth theme workshop of the initiative V-Netzwerk Intelligente Produktion.
Prof. Dr. Roland Siegwart and DI Michael Eberle reported on the subject of intelligent systems and on the developments as well as trends in robotics and mechanical engineering and gave insights into the latest developments in science and practice.
In his lecture "Robots  Leaving the Production Halls" Prof. Dr. Siegwart presented current research topics and challenges in mobile robotics. The director of the Autonomous Systems Lab & Wyss Zurich used current examples to illustrate how artificial intelligence is increasingly finding its place in robotics research and enabling new fields of application.
Michael Eberle, modeling and simulation expert at Eberle Automatische Systeme, then presented his lecture "Machines Become Intelligent – Use Cases of Innovative Industrial Applications", where he talked about the possibilities and current limitations of collaborative robotics, autonomous transport robots and artificial intelligence in practical relevance.
Eberle Automatische Systeme is shaping the future of such high-technology applications and presented current R & D projects in live demonstrations.
This highly interesting event was rounded off with some networking at the final buffet.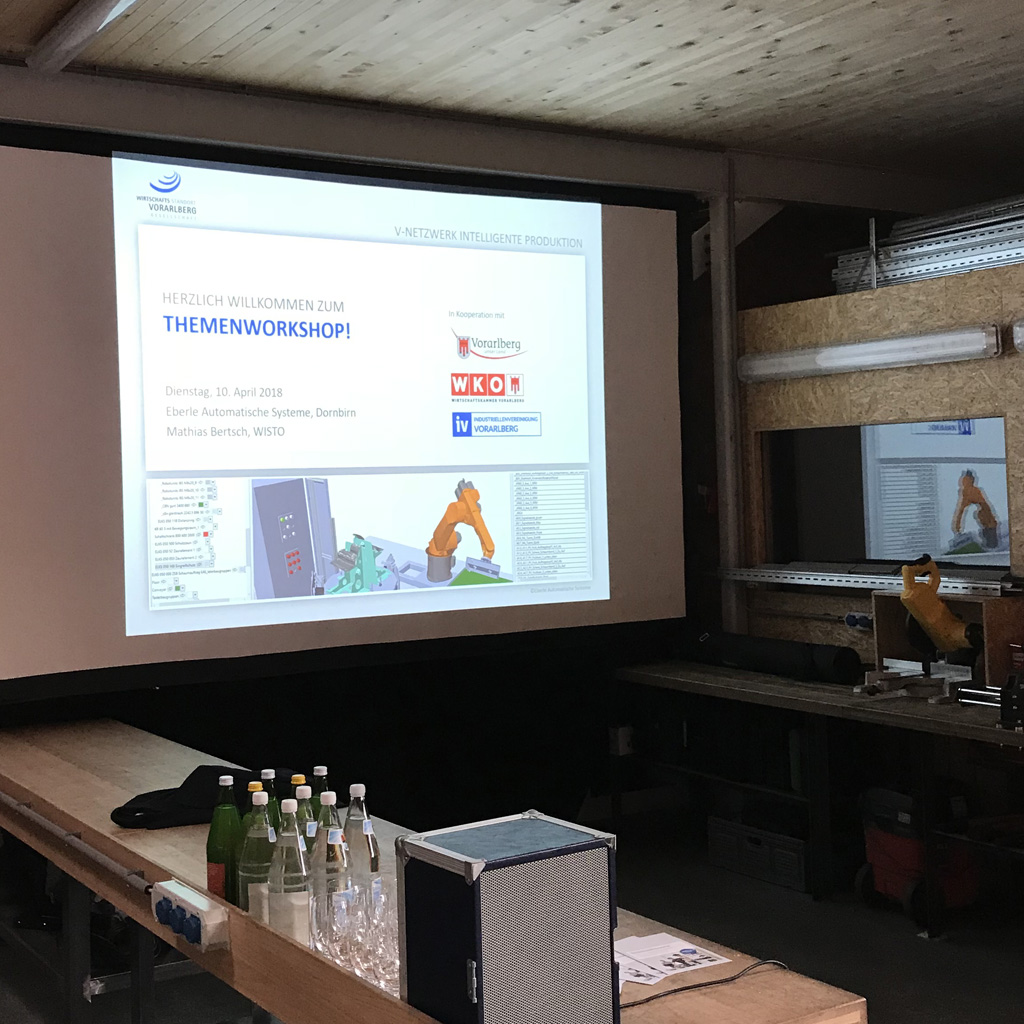 ---
The Digital Twin at the All About Automation Friedrichshafen 2018
With 2,227 trade visitors and a visitor increase of 18 percent, All About Automation Friedrichshafen 2018 was a highly successful event. Eberle Automatische Systeme was there, demonstrating how digital twins are put to practical use in a live demonstration using Virtual 3D Systems – V3S.
Our innovative product V3S allows the generation and management of digital twins. The product package includes modules for realistic animation, virtual commissioning, 3D visualization and the opportunity to further develop existing applications with digital recycling.
The interested trade visitors had a chance to directly experience the functionality of the digital twin and recognize the potential of V3S . Advantages, such as hardware-independent commissioning, convinced many of our visitors.
We're thankful for the lively interest in our products and the many interesting discussions!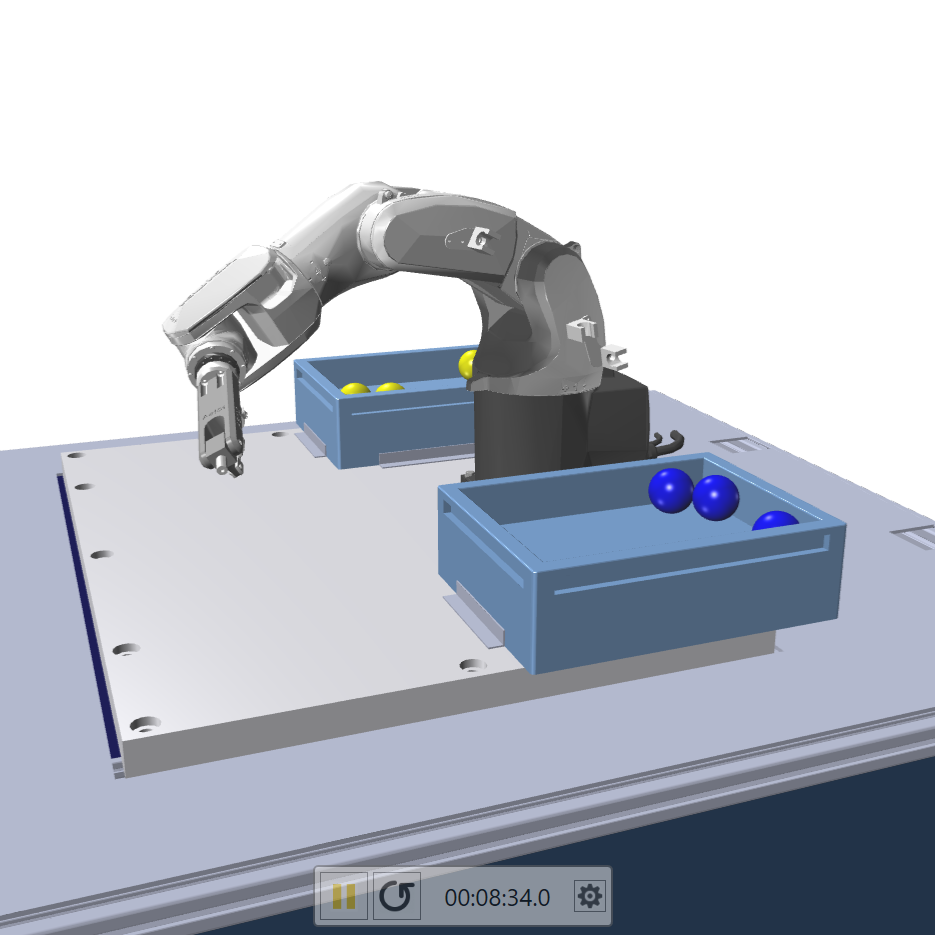 On Friday, January 26, the job fair at the University of Applied Sciences Vorarlberg in Dornbirn opens once again. Around 100 companies will participate in the largest job marketplace of the region.
We look forward to being back and inform you about the career opportunities at Eberle.
Also on board: our Cobot, the collaborative robot.
Come and see what we do, what our developments are, what we are researching and why YOU might just be exactly right for us!
We are at booth 29 on the 2nd floor and look forward to your visit!
Admission is free, the fair is open on 26-Jan-2018 from 11 a.m. to 4:30 p.m.
Further Info: Job Fair FHV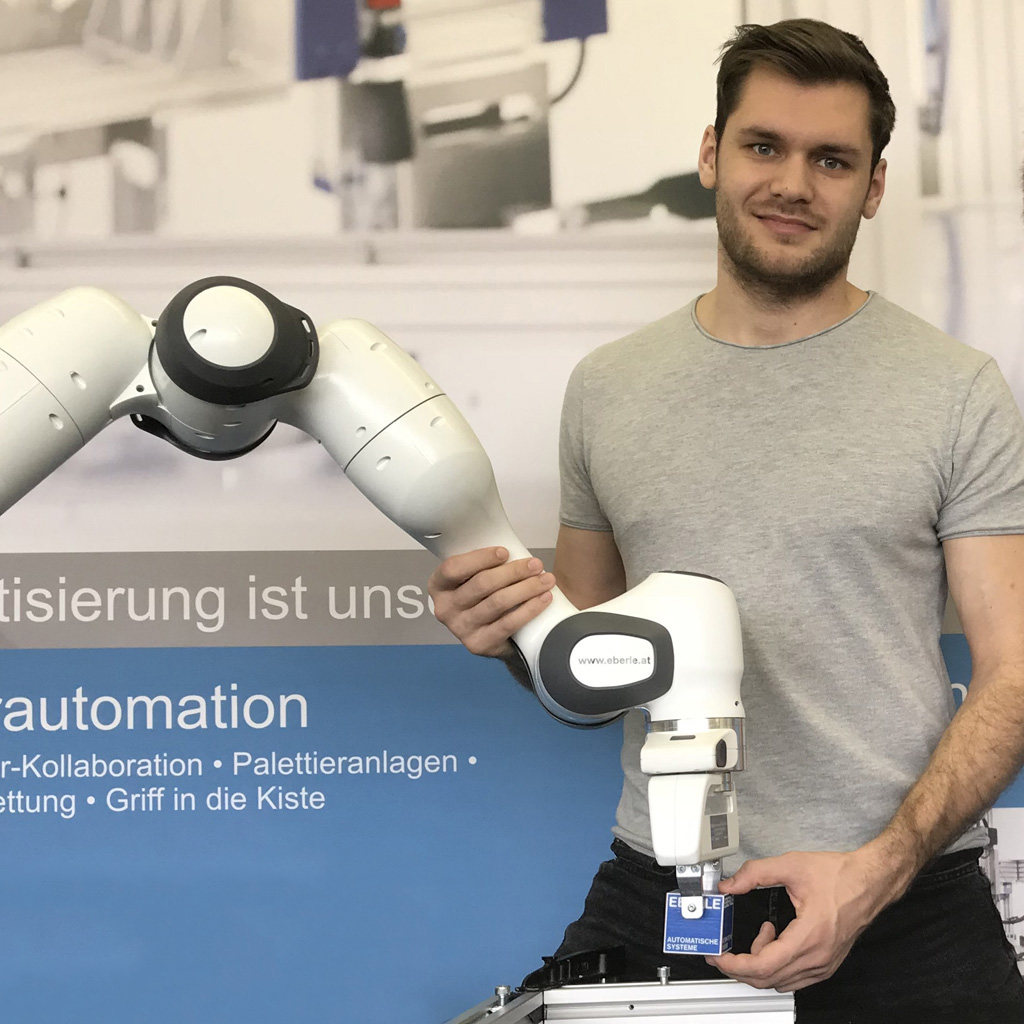 ---
Eberle at the Most Successful SPS IPC Drives Ever
The SPS IPC Drives Nürnberg 2017 was "the largest SPS IPC Drives of all time with 70,000 trade visitors", as summed up by the exhibition's organizer Mesago. We were part of the action as a Gold partner and co-exhibitor of Microsoft.
The desire of trade fair visitors for networked solutions in automation technology, as made possible by the Mobile Control Center  was noticeable.
In Hall 6, which was thematically reoriented with a focus on software and IT in production, Eberle Automatische Systeme presented a consistently networked industrial solution using a bin-picking robot. The practical example showed the mode of operation between real technology, the digital twin and an industrial cloud solution such as the Mobile Control Center.
We would like to thank our visitors for their lively interest, their enthusiasm and the interesting impulses.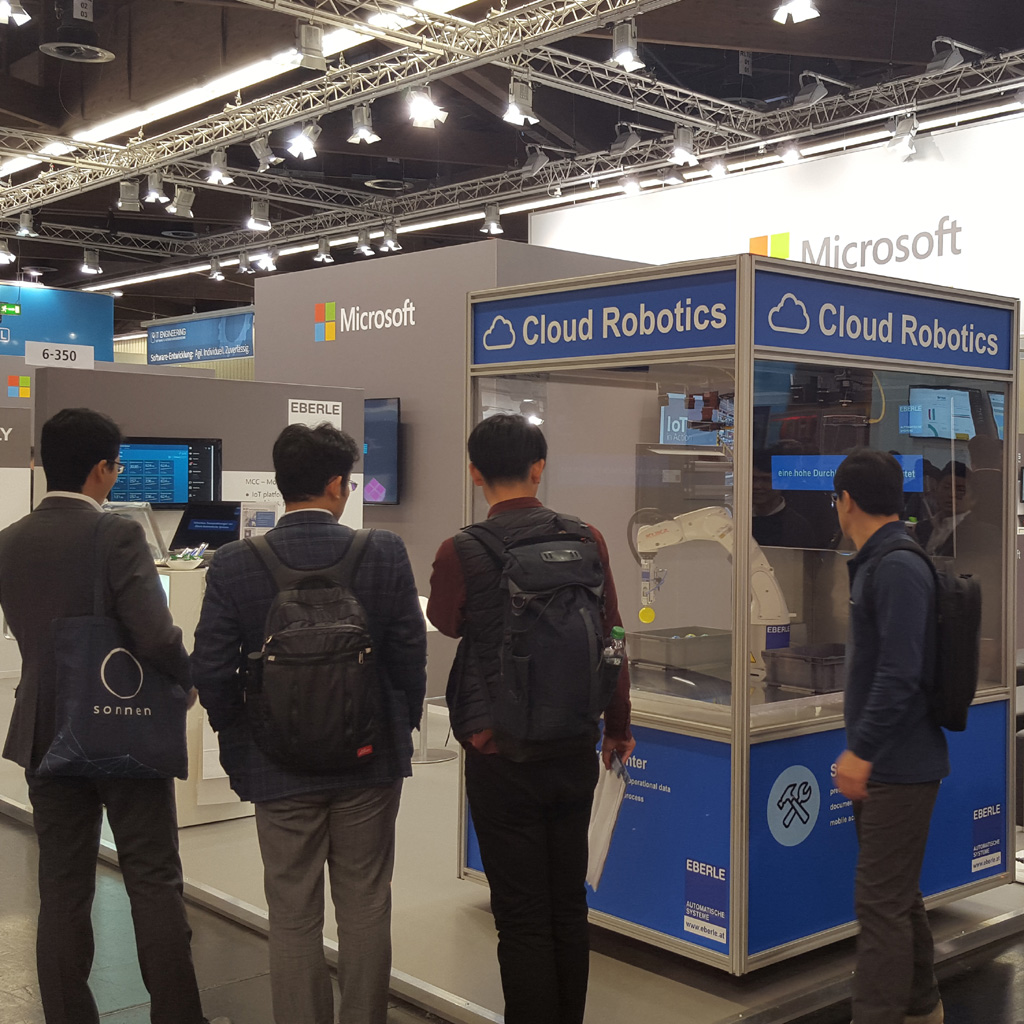 ---
Eberle Automatische Systeme at the German Partner Conference in Leipzig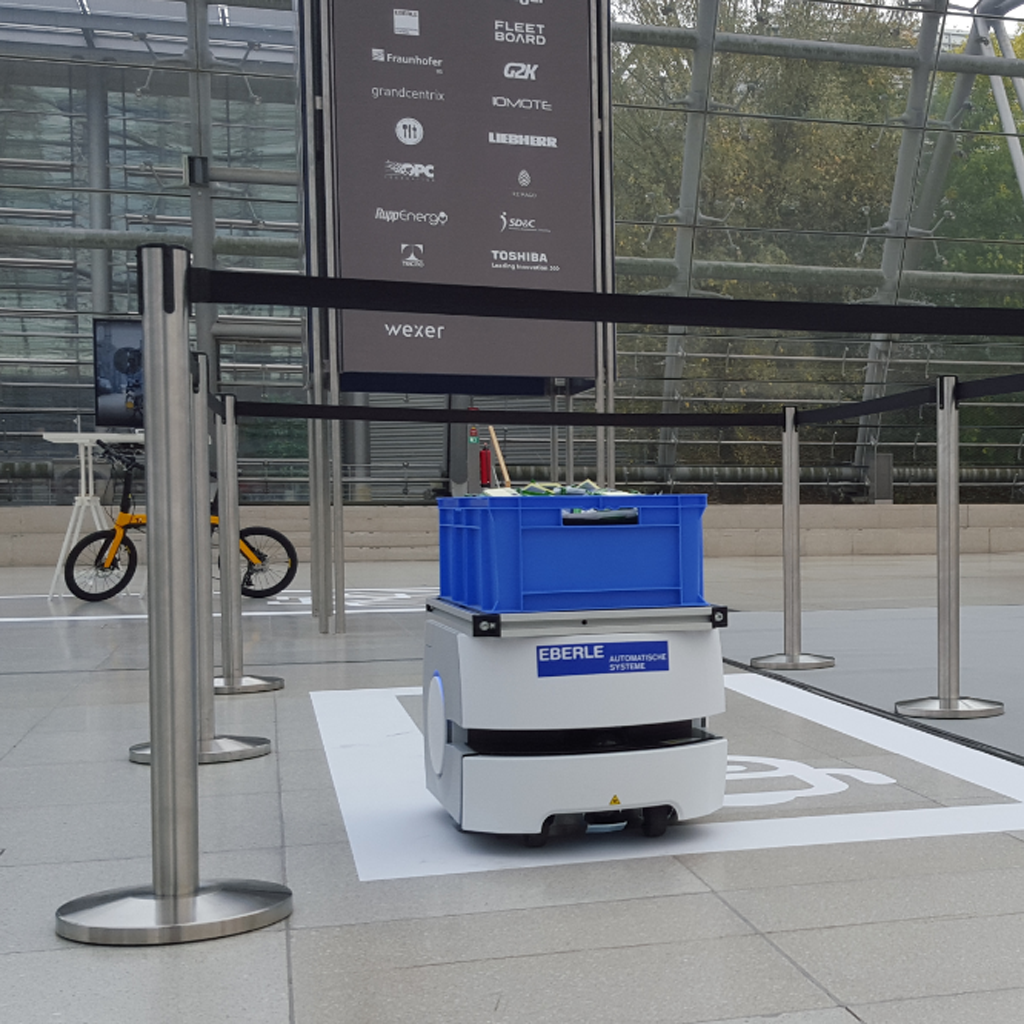 At this year's partner conference in Leipzig, Microsoft particularly focused on the subject of digital transformation. Microsoft partners presented their solutions under the motto "IoT in Action".
Eberle Automatische Systeme was there to present an autonomous automated guided vehicle (AGV). The system works with digitally networked and autonomously navigating transport robots. Such automated transport solutions can be implemented in intralogistics through the interplay of various technologies.
AGV allows transport robots to navigate across structural obstacles. For example, elevators and doors can be overcome and linked to the common business processes such as warehouse management and the ERP system through a digital interface.
The IoT solutions were a contact point for all those particularly interested in technology and brought many new impulses on both sides.
---
Four-Country Supplier Exchange 2017
On June 8, 2017, the Four-Country Supplier Exchange took place at the Dornbirn exhibition center, an innovative platform to get to know technologies, products and expertise of regional and supraregional suppliers.
The  third edition of this supplier's exchange featured exhibitors from the sectors of mechatronics, electronics, metal and plastic processing. We particularly addressed our solutions for industry 4.0:
MCC as an IoT platform and web-based process monitoring:
With our Mobile Control Center – MCC we presented how data can be gathered from machines and systems via data mining, and distributed via an IoT platform.
Solutions for the use of autonomously navigating transport robots:
Intelligent driverless transport systems are able to automate internal logistics. We demonstrated the integration of such solutions into existing structures. Practical examples illustrated how obstacles, for example elevators or doors, can be overcome.
Possible Applications for Virtual Start-Up on a Digital Twin
Virtual commissioning saves time and reduces the overall cost of commissioning machines. Our Virtual 3D System – V3S allows the creation of a fully functional digital twin of the real machine.
Augmented reality in industry
Using HoloLens data glasses, we showed application examples from the field of Augmented Reality.
We would like to thank our visitors for the interesting interactions.
---
HTL Dornbirn Job Fair 2017
On 23 February, we took part in the job fair at the HTL-School in Dornbirn.
HTL Dornbirn,  a secondary vocational school focussing on business engineering, offers training in the fields of computer science and FutureTecs.
The job fair presented itself as a meeting place for students, graduates and the exhibiting companies. In a parallel event, the diploma theses were presented.
Representing our software development team, Gerhard Köpfle and David Ritter were looking for talented junior technicians. They took on the onrush of interested students and gave information about current vacancies and internships. The HoloLens and our "animal employees" Donald & Daisy attracted additional attention.
The day at the fair was an all-round success and very informative – we look forward to next year!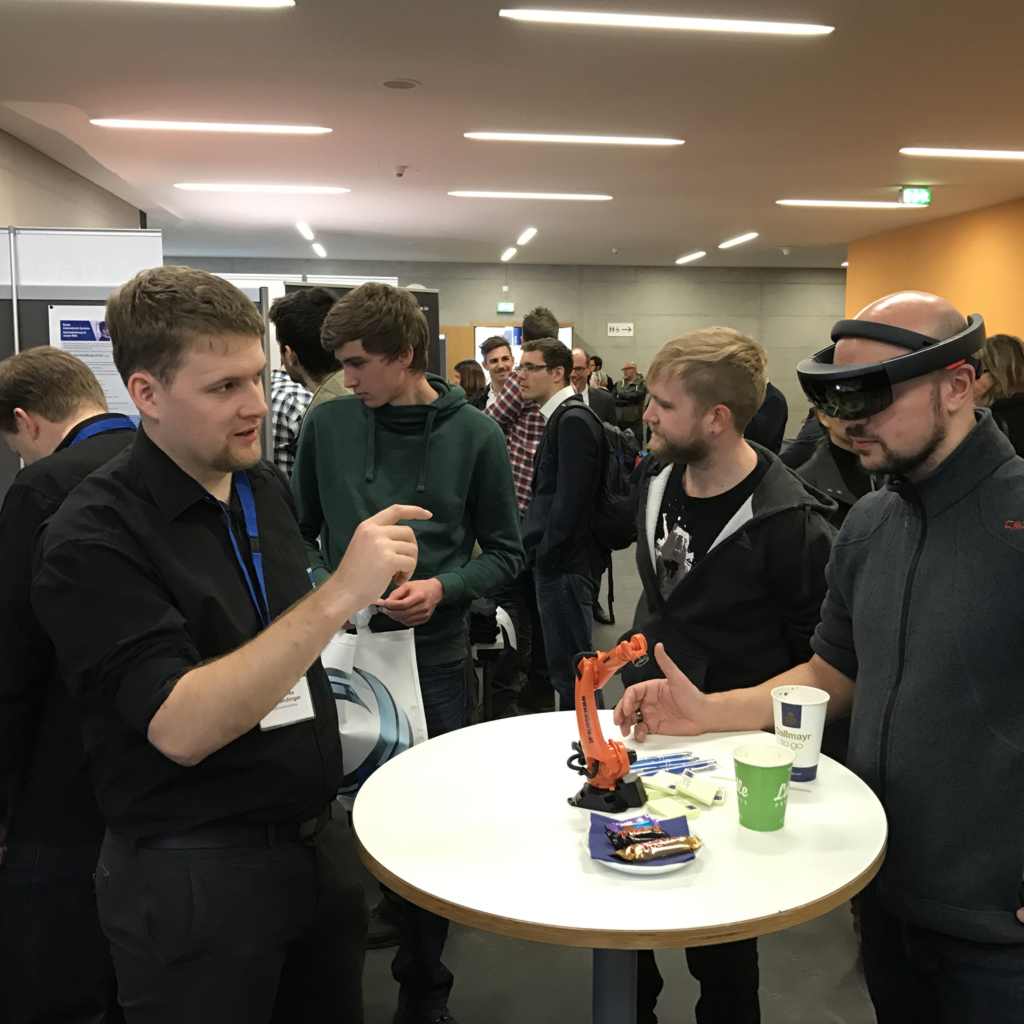 On Friday, 20th January, a job fair took place at Fachhochschule Vorarlberg, the college of higher education in Dornbirn.
This joint effort of the Federation of Industrialists (IV) and the Fachhochschule Dornbirn (FHV) has developed into the region's most important recruiting platform. About 90 companies took the opportunity to get in touch with potential employees.
We had the pleasure of giving many interested parties a closer understanding of our company and the career opportunities at Eberle. Our HoloLens was also tested extensively.
We would like to thank our visitors for the interesting conversations and are looking forward to the applications!
---
Land of Opportunities Network Meeting Bregenz 2016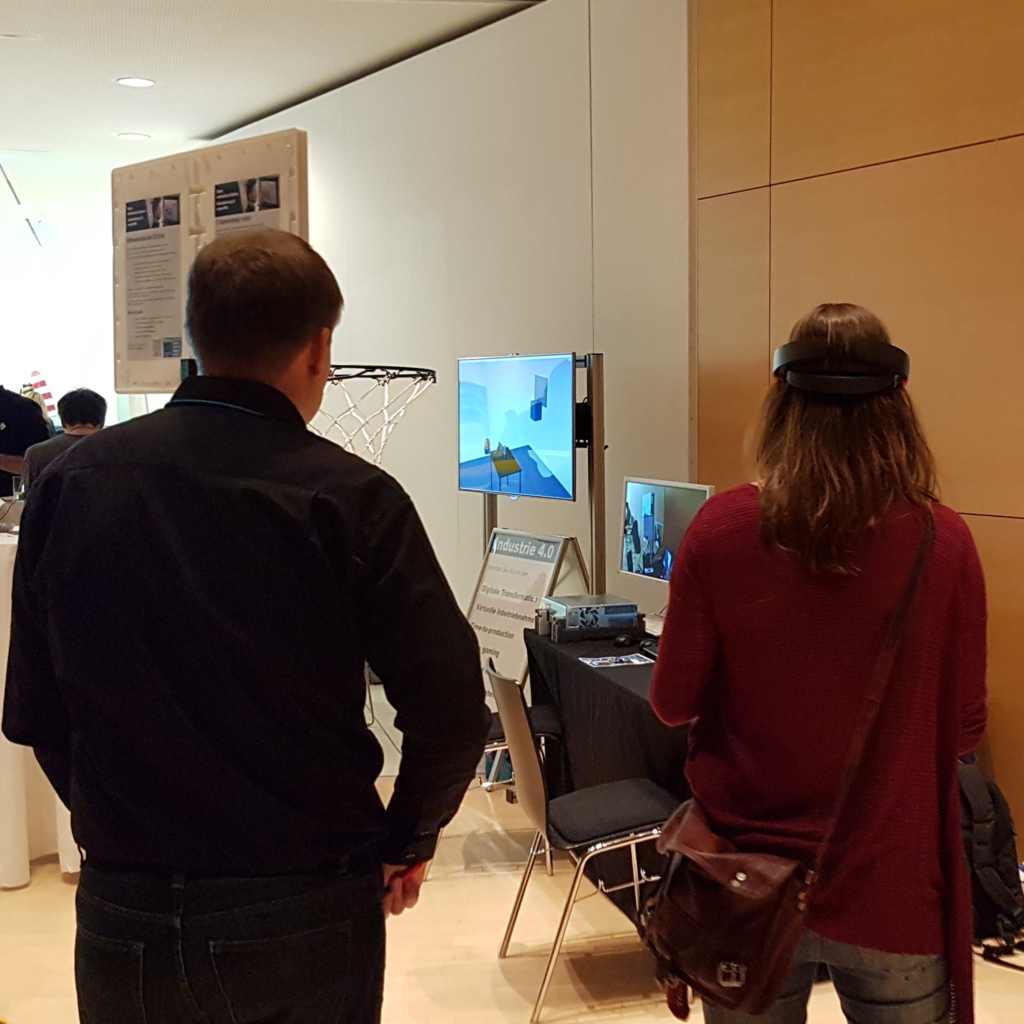 On December 22nd 2016, a network meeting organized by WISTO took place at Bregenz Festival Hall. Under the motto of "Outdoor Action Inside", 20 top companies from Vorarlberg designed the program and informed visitors about their Career Opportunities.
We would of course not pass up the opportunity of presenting ourselves to such an attractive target audience. Numerous engineering students tested their Streetball abilities in the Augmented Reality against our basket throwing Virtual Robot.
A big thank-you to all participants as well as to WISTO for this excellently organized evening!
From October 5th – 6th 2016, the Saltex trade fair in Dornbirn presented a meeting place for experts in the fields of textile processing and automation.
Concerning our special focus on automation, visitors particularly informed themselves about the monitoring solution Mobile Control Center — MCC and the innovative process of Virtual 3D System — V3S.
A permanent exhibition showed the functionality of intelligent driverless transport systems, which generated a lot of attention!
A look through the HoloLens data glasses gave our visitors a peek into the world of Augmented Reality.
---
Four-Country Supplier Exchange 2016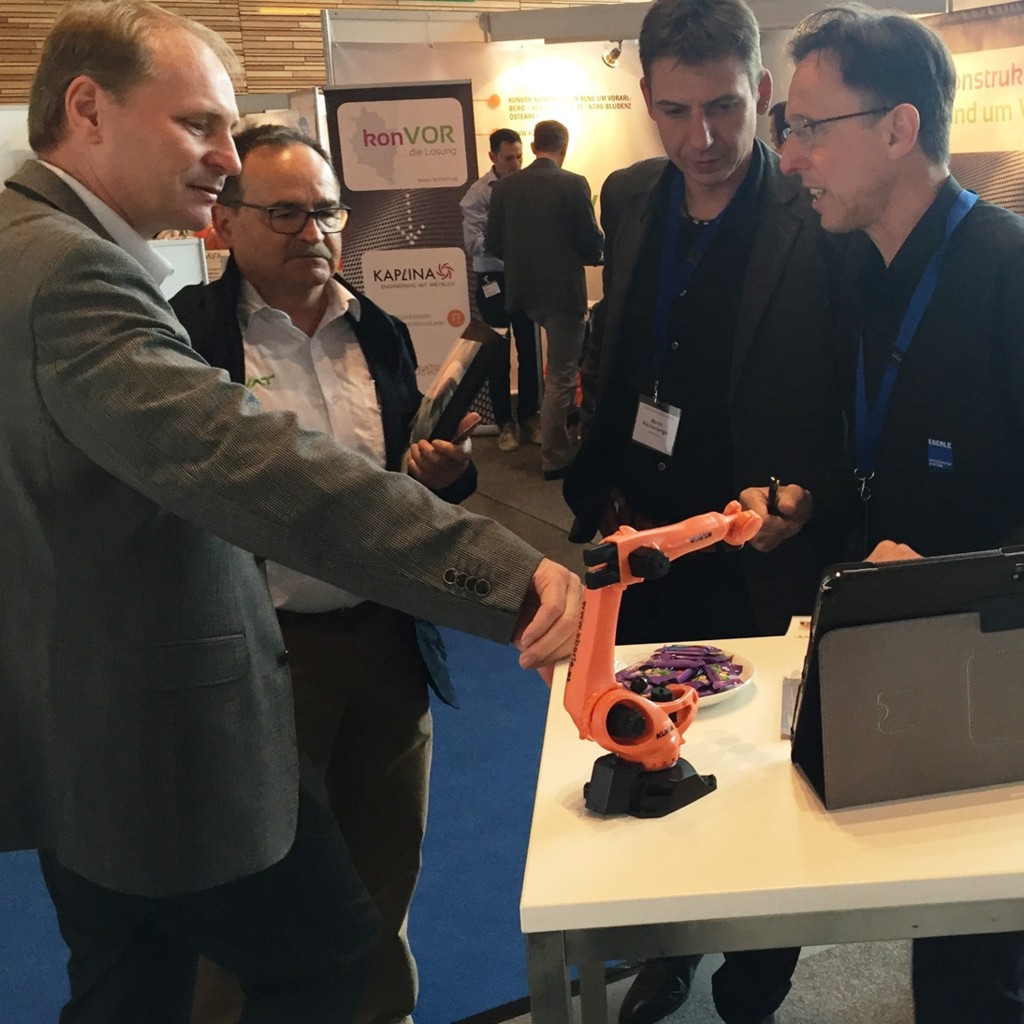 On Thursday, June 2, 2016, the Four-Country Supplier Exchange opened once again at the exhibition center in Dornbirn, after its successful premiere last year.
Around 70 exhibitors from the sectors of mechatronics, electronics, metal and plastic processing informed the public about their technology and expertise.
We were present once more during the second edition of this new exhibition format and presented our broad range of services in the fields of automation, robotics and machine vision.
A special focus lay on our innovative new developments:
Mobile Control Center — MCC – Secure monitoring of machines via the Internet // "Real-time information via smartphone."
Virtual 3D System — V3S -Testing and visualization of control software on a fully-animated 3D model, awarded with the Vorarlberg Innovation Prize.
We would like to thank our visitors for the direct, personal exchange as well as the interesting discussions and draw a positive balance of this exposition.