Robot Automation
Today, robots are very commonly used in industry. Robotics is one of the cornerstones of Industry 4.0. In the SmartFactory of the future, flexible use and the fast adaptation of machines will be decisive for success. 
This and other requirements, such as high availability, inhumane working environments, high precision and repetitive accuracy, can best be achieved by robot technology. 
A unique feature of robots is their ability to collaborate safely with humans. Completely new solutions can be developed with the recent generation of collaborating robots. Now humans and robots can work "shoulder to shoulder". 
Packaging o

r Unpackaging

 

• Fast • Strong • Reliable • Tireless
---
Palletizing can easily be carried out over multiple infeeding conveyors or palletizing zones, as well as with various containers like crates or cardboard boxes. 
A built-in bar code scanner enables clear identification of pallets and goods. 
It is possible to grip different pallet formats and multiple transport units at a time. The empty pallets as well as intermediate pallets are handled automatically. 
The technology can be fully integrated into the existing pallet and box conveyor system. 
---
Gripper Types
Universal Grippers • Magnetic Grippers • Box Grippers 
Complete Palletizing Cell
Example Solution:
---

Technical Specifications
Palletizing robot with base and box gripper

 

Up to 10 cycles / minute depending on box type and palletizing pattern

 

Box size of L300 * W200 * H80 mm to L300 * W400 * H300 mm

 

Stacking height up to 1600mm

 

Box weight 1 to 20kg
3 box types and 3 palletizing patterns

 

Centering stop for europalett

 

Safety barriers with security doors

 

I/O interface for connection to on-site box conveyor technology

 

Control cabinet with touchscreen and control panel

 

Line supervising computer including parameter and alarm management, manual operation

 

Space required approx. 3 * 3 * 3 m

 
---
Bin-Picking Robot & Separation
Detects • Arranges • Adjusts • Calculates • Plans • Grips• Supplies
---
Bin Picking 
Bulk material goods are registered with a high-resolution optical method. Thus obtained information about the location and position of the workpieces is transmitted to a robot. The integrated path calculation module considers gripping points and interfering edges. 
The main advantage of this solution is the rationalization of processes. An increase in autonomy time can be achieved at low costs and space requirements. In addition, camera measurement ensures an exact setting down of parts. Besides, targeted bin-picking does not cause any significant noise. 
---
Sorting
Regardless of how workpieces are conveyed, the robot recognizes their position and character with an integrated camera system. 
The positioning and measurement of the objects is carried out with a high-resolution industrial camera. The robot is used to pick up and align the workpieces. 
As an example, the infeed of machine tools could be executed completely automatically using this method. 
Application Video Bin Picking
---
Loading • Unloading • Inspection
---
Machines can be linked with a robot that fully automatically supplies production machines or conveyors. The robot can be used bidirectionally to deliver, as well as remove material during the production process. While the material is filled into transport containers, a production check is carried out automatically using a camera.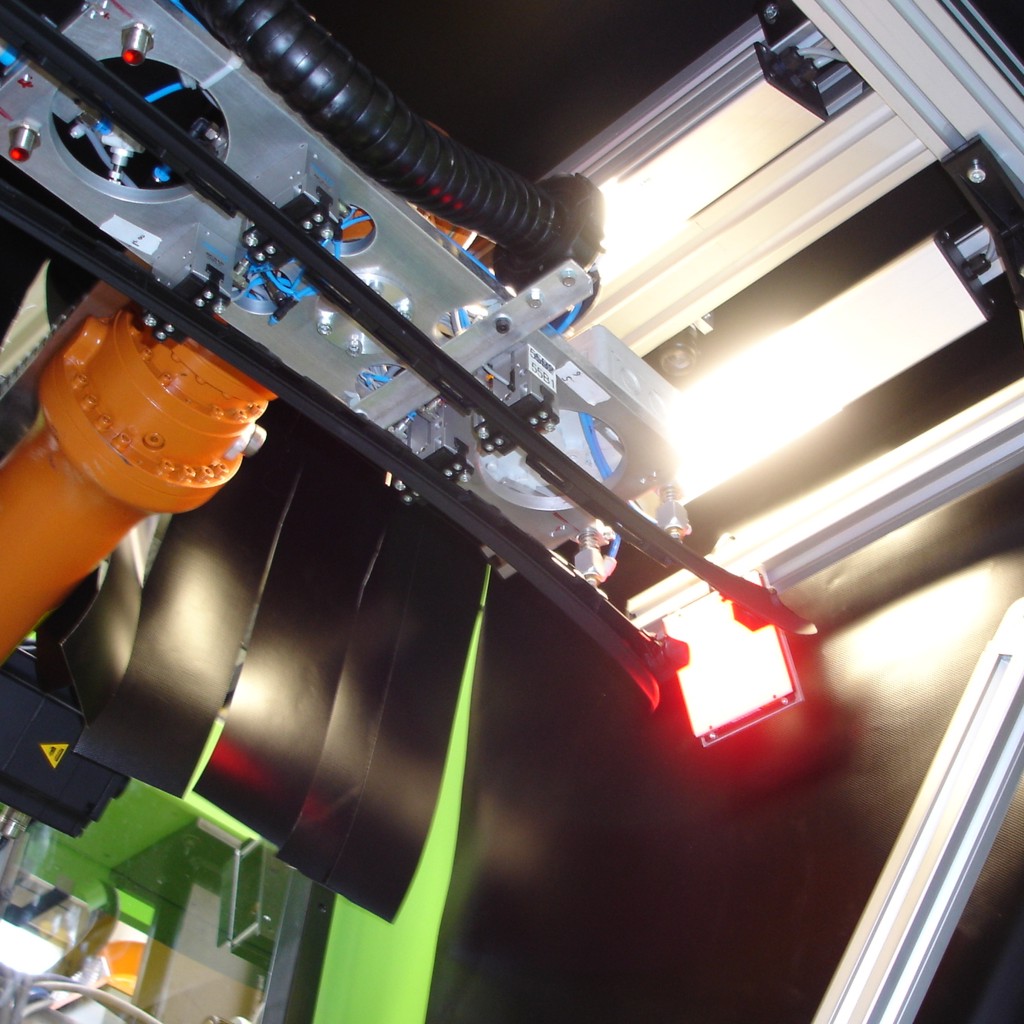 Small • Precise • Fast
---
SCARA robots and camera systems are used in Pick & Place solutions. SCARA robots 
fu
l
fill
 the highest 
standards 
of precision and speed. As the fastest 
of 
their class, they master the most complex tasks 
even
in 
very 
confined space
s
. They are therefore the first choice when it comes to 
quick 
handling of small components.
Applications
Highspeed Pick & Place

 

Precision assembly

 

Materials handling

 

Packaging

 
Technical Specifications
Range of 600 to 800 mm

 

High resolution camera system

 

PC-based image processing and data input by master computer

 

Transmitted light illumination integrated in the conveyor

 

High accuracy location and position determination of parts

 

Quality inspection of parts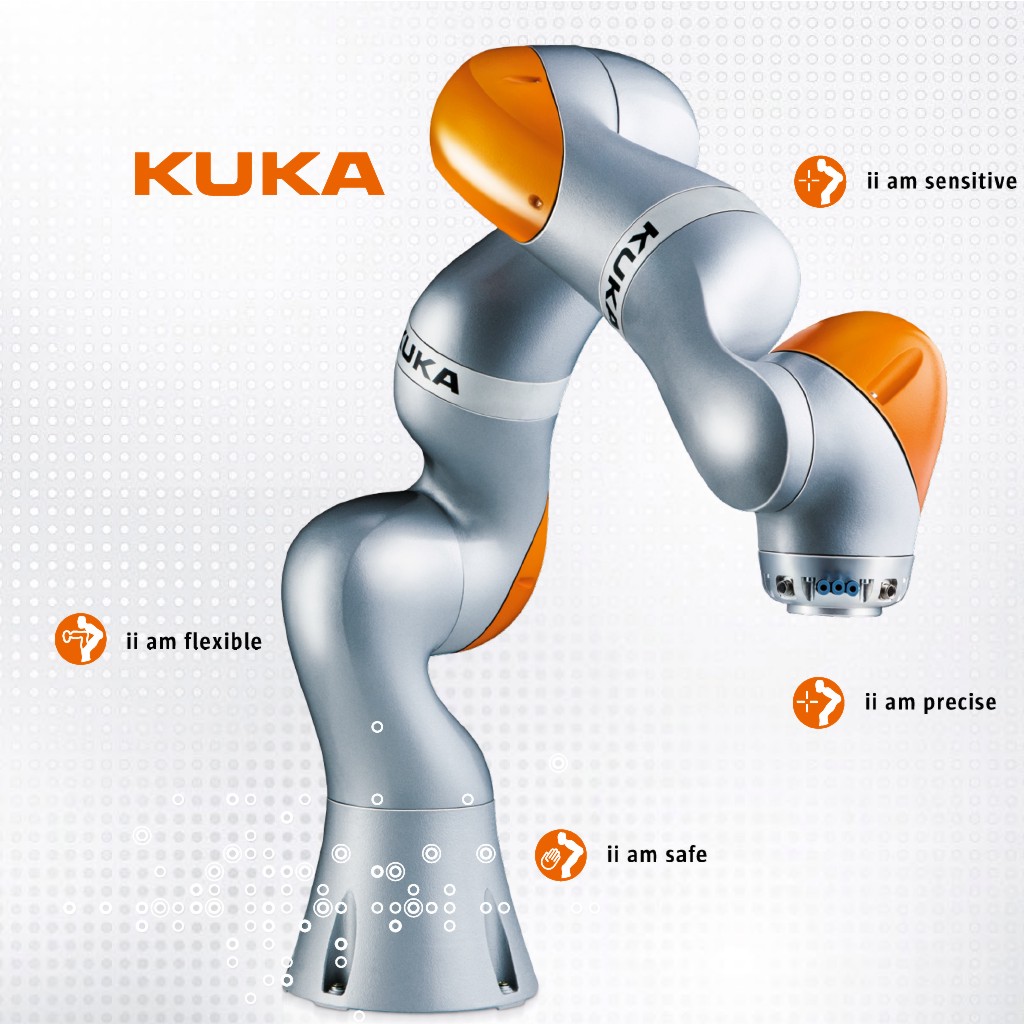 Cautious • Sensitive • Precise • Safe • Collaborative
---
Sensitive, collaborative lightweight robots such as the LBR IIWA allow people and robots to work hand in hand. The intelligent assistant (digital colleague) opens up a variety of possibilities to clear out work areas or to automate repetitive manual work. The sensitivity of the robot breaks the barrier between man and machine and makes cooperation possible without safety enclosures. 
To ensure safe collaboration, special rules have been put in place for collaborating robots. They are defined in the ISO standard (TS 15066). For example, the device for gripping must be collaborative as well. In addition, system integrators use risk assessment to determine whether the critical values can be complied with in case of accidental contact.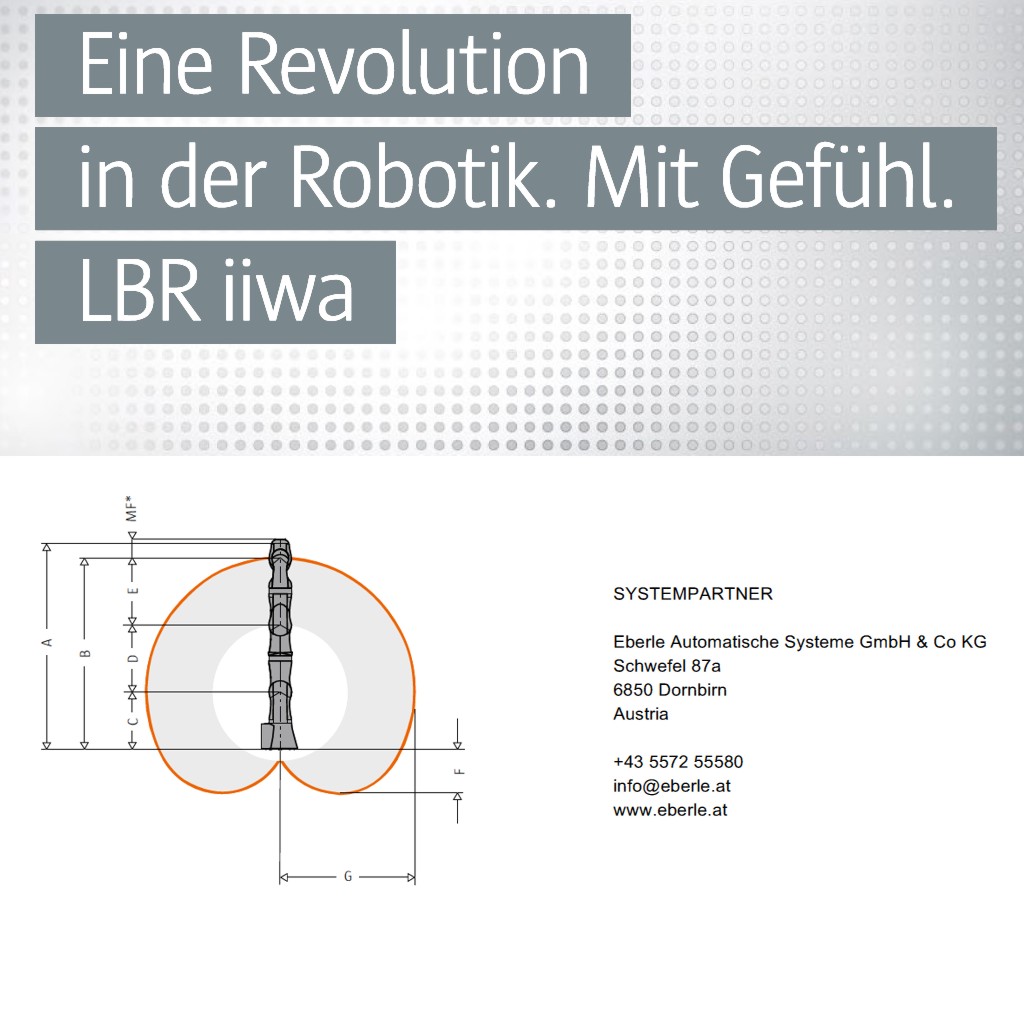 ---
Autonomous Transport Robots
Autonomous • Flexible • Reliable
---
Eberle's driverless transport solutions can be integrated into existing infrastructures. 
Transport tasks are solved in intralogistics using autonomously navigating transport robots and a higher-level management system. Application possibilities are diverse and include tasks from warehouse logistics to automated machine chaining. The internal transport of goods can be organized even in extensive production facilities and plants. 
Intelligent sensor technology and computer-assisted autonomous navigation ensure that the transport robot moves safely through ongoing production. If the transport robot comes up against an obstacle, it recognizes this and independently looks for an alternative route. Desired routes and trafficable areas can be specified within the software. Transporters can overcome structural obstacles such as gates, doors and elevators. Authorization to go through passageways or request elevators is passed down to the transport robot from higher-level control systems. 
Transport robots can be used even more flexibly through the use of fleet management. Here, the transport orders are sent to a control system which organizes the automated transport from point A to point B. 
Technical Data of a Mobile Transport Robot (example)
Load capacity up to 60 or 90 kg

 

Battery with 60Ah for an average runtime of up to 13 hours

 

Max speed 1800mm / s

 

Integrated voice and audio output

 
Application Video Driverless Transport Solution (FTL)
---